Database Export Tool
Export/Import Overview
The Database Tour contains a very fast, highly customizable data export and data pump tool.
It allows you to export or migrate data to:
New or existing table(s) in the same database.
New or existing table(s) in another database of any supported type, e.g. Access, Oracle, SQL Server, PostgreSQL, SQLite, Firebird etc.
File(s) of the following types: text, CSV, HTML, Excel (xls, xlsx), dBase (dbf), PDF, SYLK, RTF, XML, Word, SQL script.
File(s) of custom format based on user's formula.
Image and other separate files from database Blobs and Clobs.
Exporting to HTML, XLSX, PDF, and RTF can be performed with pictures and text formatting (including conditional formatting).
There is a possibility to export data using action files or in the command line mode (Database Tour Pro only). This allows to use the tool in .bat files, schedulers, and in calls from other programs, including your own ones.
You can import data from a table in the same or another database. Also, it is possible to import data files like .db, .dbf, .csv etc by dragging them into the table list of the open database. Importing works similarly to exporting, where input and output are swapped; therefore, in all cases where importing destination-db from source-db is needed, it can be replaced with exporting source-db to destination-db.
Database Tour can also export data to clipboard and import tabular data from clipboard into an open dataset.
Exporting Data to Databases
In addition to exporting data to many file formats, this export tool allows you to migrate data from one relational database to another. Thus, you can convert Access to SQL Server, Interbase to Oracle, CSV to PostgreSQL, or use many other source-to-destination database migrations of supported database types.
For some database types, it is possible to export data in very fast batch mode with ability to control the size of data batches.
Exporting Multiple Tables
In just a few clicks, you can easily export several selected tables at once. By default, exporting group of tables is done as one source table per one target file or table.

Exporting selected tables to one target file or table is also possible.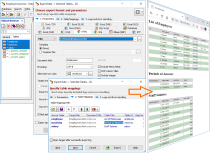 Field Mappings
Before exporting or importing data, it is possible to specify source-to-target field mappings. For multi-table exporting, table mappings can be used. Field or table mappings can be saved to file and loaded from file.
When copying data from a database to database, this interface gives you even more benefits:
For most of databases, this export tool is able to convert the source column types to target column types, as you can see in the example of Access to PostgreSQL data migration on the screenshot.
Possibility to specify full destination columns' specifications.
If the target table already exists, the corresponding warnings are shown for the table and target column names.
In the source part of the mappings, you can use either physical fields from the source database or calculated fields (dynamic expressions or formulas).
Exporting Images and BLOB Data
The program can automatically detect the most known image types (JPG, PNG, GIF, BMP, ICO) in BLOB fields of a source database and export them, for example, to HTML or XLSX formats. It can also convert image format on the fly.
The data from BLOB, CLOB or other fields can be exported into individual files, binary or text.

Exporting to HTML Using Template
Exporting with Formatting
Exporting Reports
Exporting database reports to Excel or HTML gives you absolutely different experience. In reports, you can design an unique layout, and then export it almost as is to HTML or XLSX formats.
Note: Working with reports is available in Database Tour Pro only.
Export Dialog
Importing Data
Please also consider trying our export-specific tools: Exportizer Pro or Exportizer Enterprise. These are extremely cheap but very fast and highly customizable database export solutions which can open tens of database types and support tens of target formats.